GET UP! ⬆️ GET LOUD! 🔊 WEAR 🖤 & 💛! IT'S GAMEDAY!!! Your Lady Eagle 🏐 Team is Home tonight for another district match! 🏟️ Home ⏰ 5:00 PM JV first & Var. after 🆚: Aquilla (District Match) 🎟️: FREE #WeAreEagles 🖤🦅💛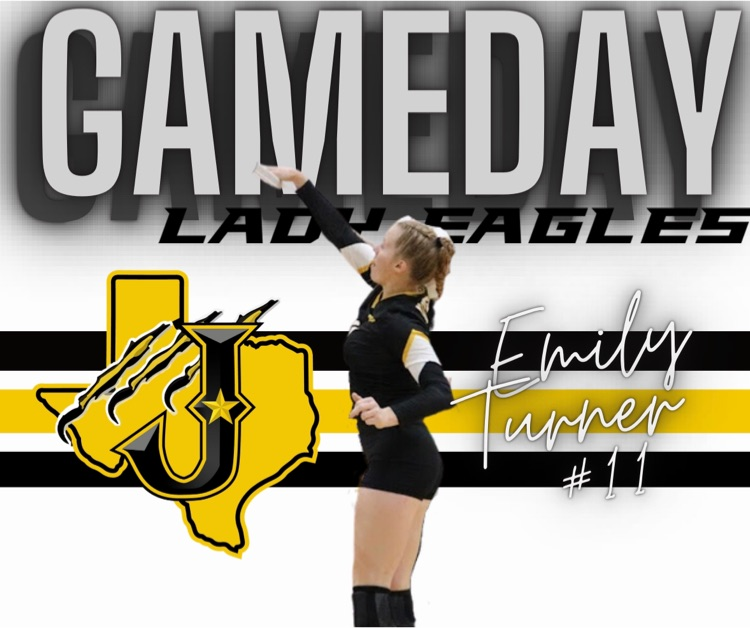 Week of Sept 25th Calendar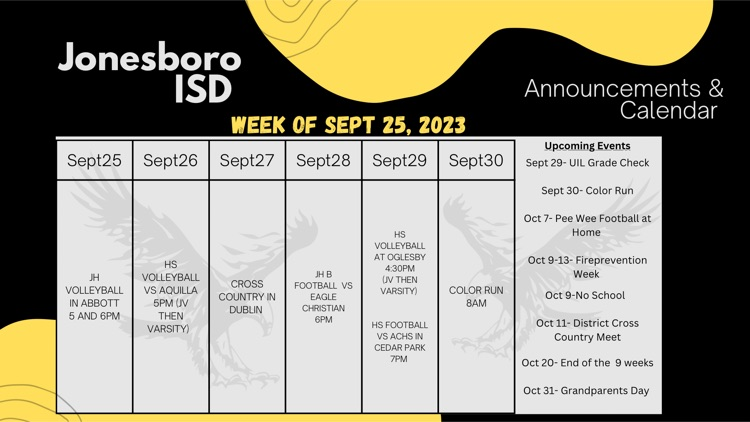 🏐VOLLEYBALL🏐 🖤~!FINAL!~💛 EAGLES WIN 🦅 Your Lady Eagles come out and take the first game in District play against Gholson in 5 sets! JV lost a tough one tonight. They'll bounce back and be ready to go! Thank you to all the family, friends & fans who showed up and cheered on the ladies! Back in action again next Tuesday vs. Aquila here at home!!! #WeAreEagles 🖤💛🦅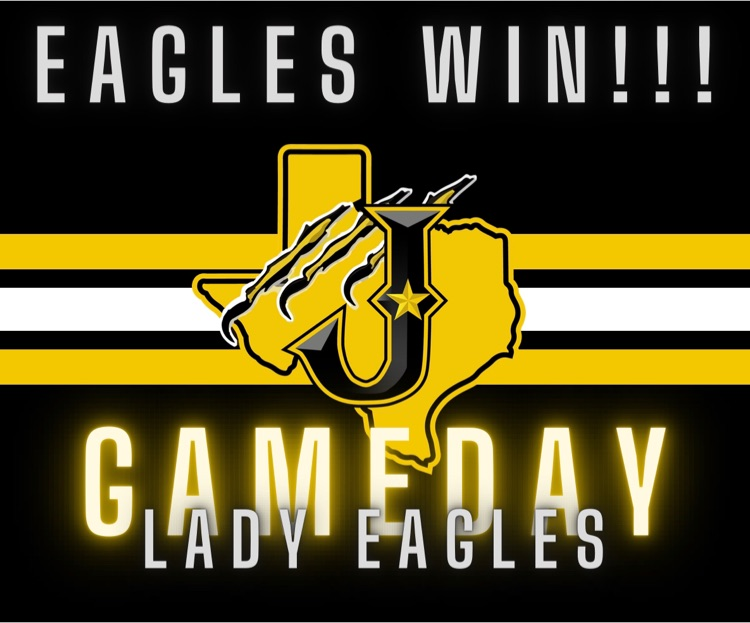 All parking behind the school will be closed at 4pm today, September 20th, to prepare for the carnival this afternoon. Please make sure all vehicles are moved by this time. Thank you!

Color Guard Camp information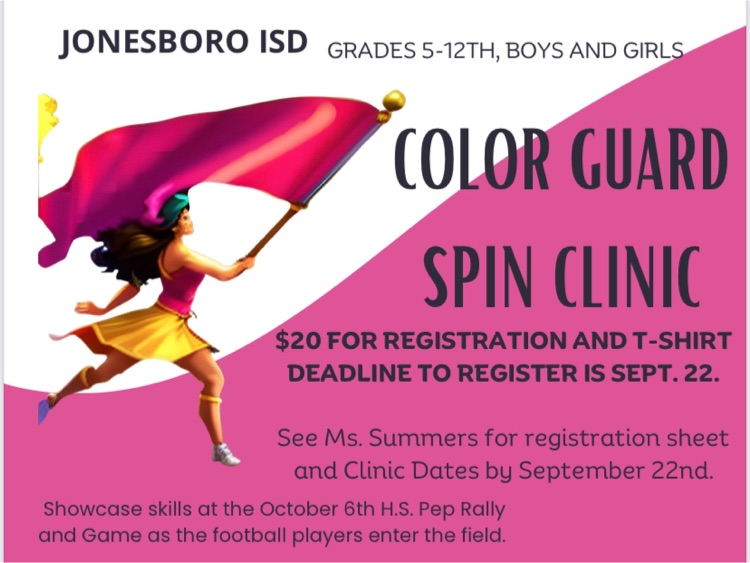 Just a reminder that Friday's Homecoming Pep Rally will be in the afternoon. It will start at 3pm.

Week of Sept 18th Calendar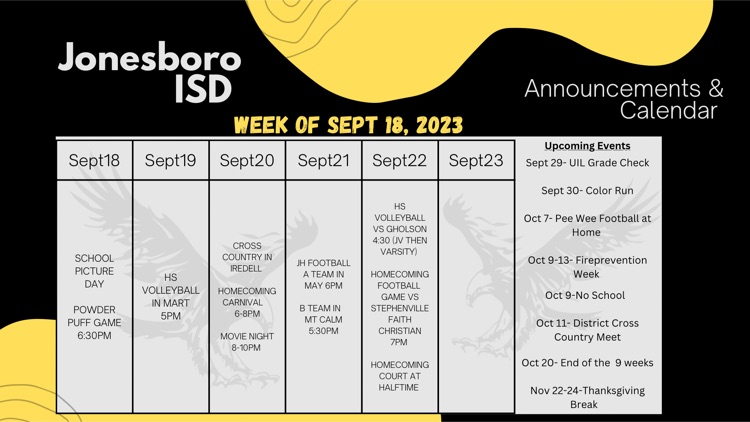 🏐HS Volleyball🏐 ~Schedule Update~ Tuesday's game in Mart has been canceled. Instead your Lady Eagles will play host Tuesday evening here at home. Both JV & Varsity teams will be on the court! Date: Tuesday, September 19th Location: Jonesboro Time: Kopperl vs Varsity @ 5:00pm Central Texas Bluecats vs JV @ 6:00pm
GET UP! ⬆️ GET LOUD! 🔊 WEAR 🖤 & 💛! IT'S GAMEDAY!!! Your Lady Eagle 🏐 Team is on the road tonight heading to Lipan! 🏟️ @ Lipan ⏰ 4:30 pm Varsity Only Tickets $3 Adults & $2 Student/Child #WeAreEagles 🖤🦅💛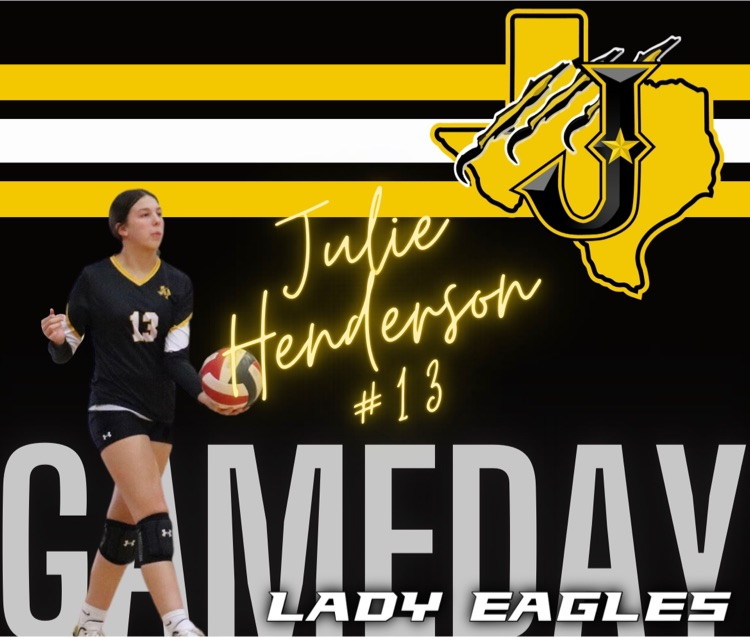 Just a reminder that Monday, September 18th is picture day. These are the pictures that will go into the year book. The photographers will also be taking the Class of 2024 Senior Pictures.

Due to scheduling conflicts we have had to change our Powder Puff Game and Movie Night next week for homecoming. The updates are reflected in this updated flier.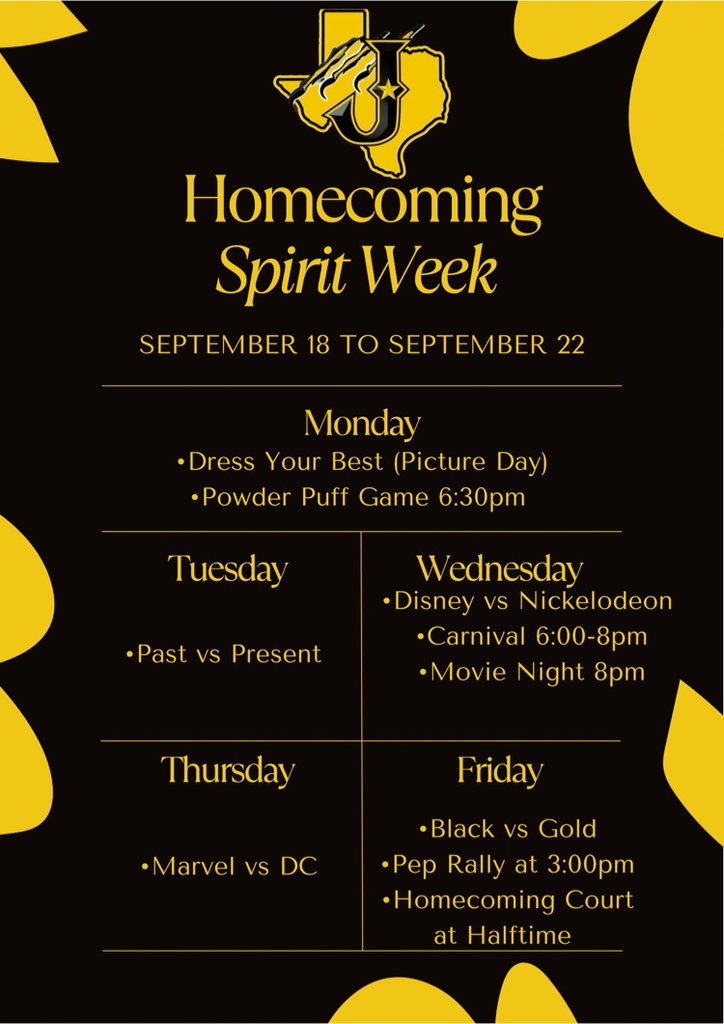 🏐Volleyball🏐 !~FINAL~! Your Lady Eagles fall short tonight against Bruceville-Eddy in 3 sets. JV had a hard fought game this evening but came up short as well. Your Lady Eagles will be back in action again Friday night in Lipan! Var plays at 4:30! #WeAreEagles 🖤🦅💛
🏐 JH Volleyball 🏐 Lady Eagles win!!! 🖤🦅💛 Your Junior High Lady Eagles take care of Oglesby tonight in 2 sets! High School set to play tomorrow night against Bruceville-Eddy here at home with JV starting at 5pm with Varsity following after! #WeAreEagles

👑Congratulations to our 2023 Homecoming Court👑 This years king and queen will be announced at halftime of the football game.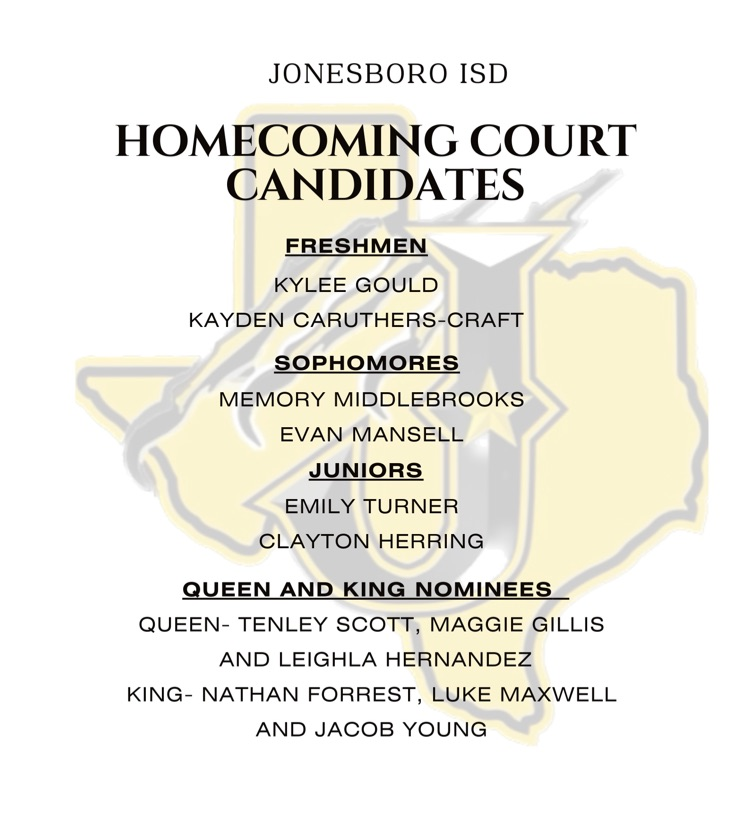 Next weeks homecoming activities. (Note we changed the theme for Monday's dress up due to picture day.)

FFA Fundraiser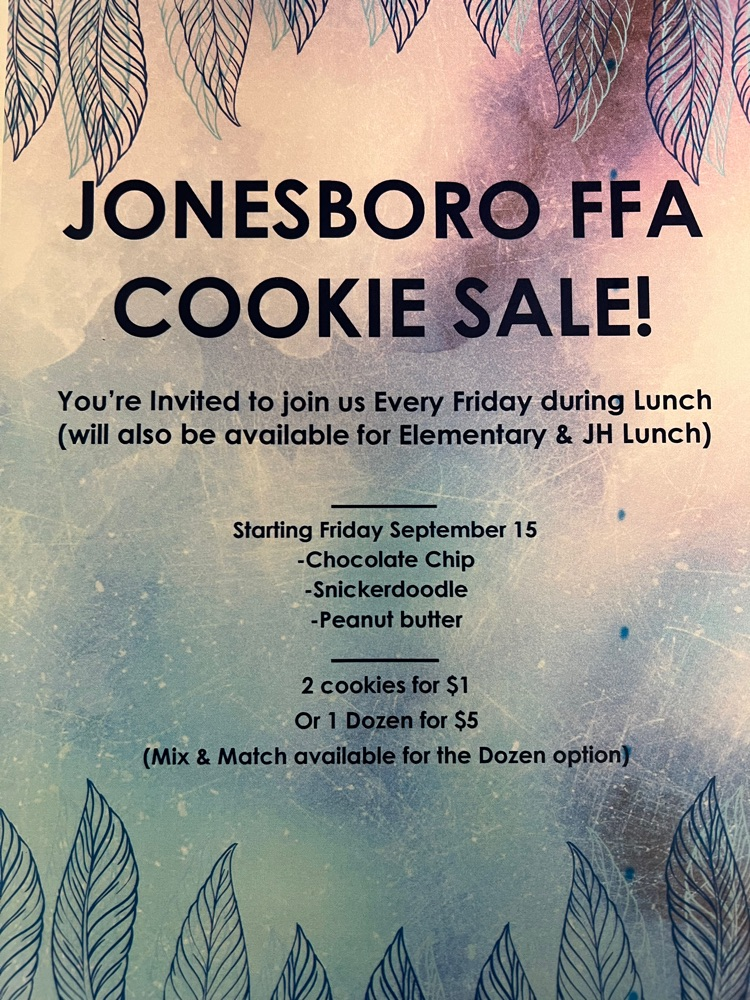 Cross country's first meet is this week. They will be running in Lometa (Lometa Regional Park) on Tuesday, 9/12. The meet will be on a rolling schedule beginning at 2 PM: JV Girls Varsity Girls JV Boys Varsity Boys JH will begin no earlier than 4 PM: JH Girls JH Boys JV and Varsity divisions my run together depending on number of entries, so varsity girls could very well be running first, at 2 PM.

Week of Sept 11th Calendar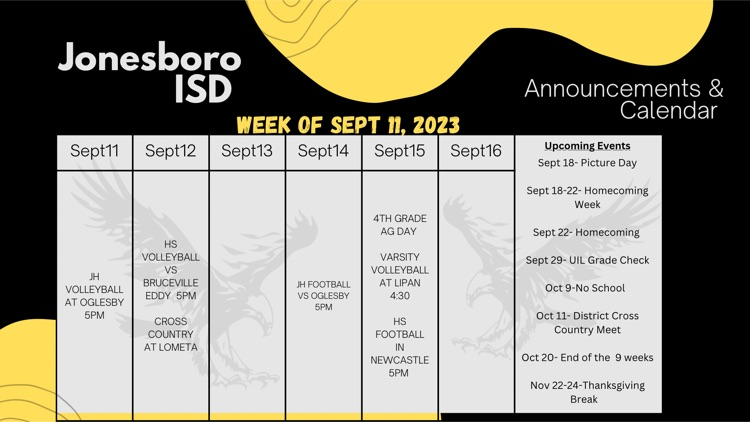 Homecoming mum and garter order forms are being sent home today.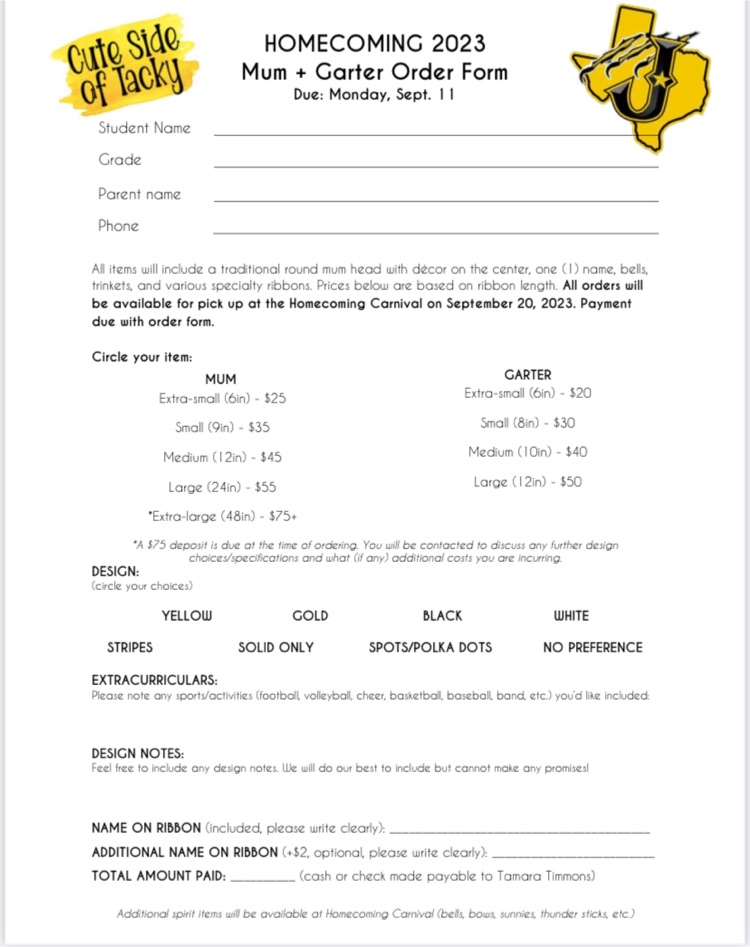 September breakfast and lunch menus.