Happy New Year, praying mamas of Jonesboro! I just wanted to take a minute to point out how incredible God has made our first term of the year. I am so thankful for all of you praying for our community, our school, our staff, and our students. I am also so thankful for the support that is always shown and given. For this new year and term, I have asked God what is we need to pray for as mountain moving, Satan scaring mamas. His response, unity, cooperation, and peace. Unity for our students, staff, and community to remain strong together as a family. Cooperation (and grace), fore the times of state testing are upon us in this term, and it can cause major stress and frustration for teachers and students alike. Peace for our family unit as a whole. Meaning the community, staff, and students. As mentioned, this is the part of the year when things can become tense and overwhelming. As the praying mamas of Jonesboro, we can counter all of this with the power of prayer, and by giving it all over to Jesus. These are our babies in this place, our friends, and the community we love. Let's build them up in Jesus name, praying out all flu and multitudes of other ailments that threaten our babies health. Let's pray for their teachers who teach them, before we criticize or accuse them. Let's pray our school into a new year that is so remarkable the only thing people will be able to see is Jesus in us all. I love you all and am so thrilled to praying together with you all! HAPPY NEW YEAR! Ramey Barnett

https://www.latimes.com/sports/highschool/story/2019-12-27/6-man-football
Jonesboro was a feature in the LA Times on an article regarding 6-man football. To our past, present and further players, your legacy for the sport has shined all the way to California. Keep up the hard work and know that we are very proud of each of you. As the last line in article says we "leave together," I'm reminded of just how blessed our Jonesboro family is to have each other. Enjoy the rest of your Christmas break!

Reminder!!! Boys practice tomorrow at 9am. JH Boys are welcome to join it is not mandatory for JH Boys to be there. Hope everyone had a great Christmas!

Calendar of Basketball during break. Subject to Change, Coach Simon or Ashby will let you know. Thanks have a great break!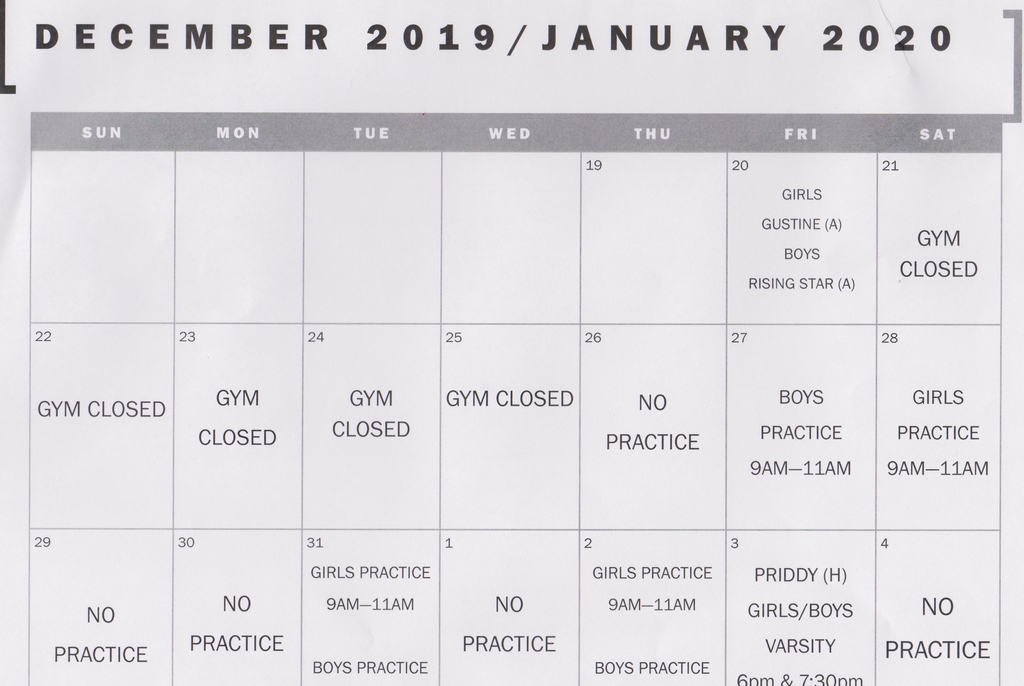 Varsity girls remain u defeated with their 49-25 win over Gustine!
Congrats to the following Eagles that were selected to the TSMCA All Region Team 1st Team: Tight End - Wade Foote Center - Wyatt Faulkner Quarterback - Sean Hernandez Fullback - Ian Shoaf Kicker - Jep Petersen Defensive Ends - Ty Green, Keith Sanders Linebacker - Brandon Nemelka Cornerback - Sean Hernandez Safety - Ian Shoaf 2nd Team Tight End - Kaleb Sanders Wide Receiver - Ty Green Nose guard - Wade Foote Punter - Sean Hernandez

The varsity games for December 30th have been canceled by the other team.

You have 15 minutes to get to the school to watch the Celebration of the Arts Program!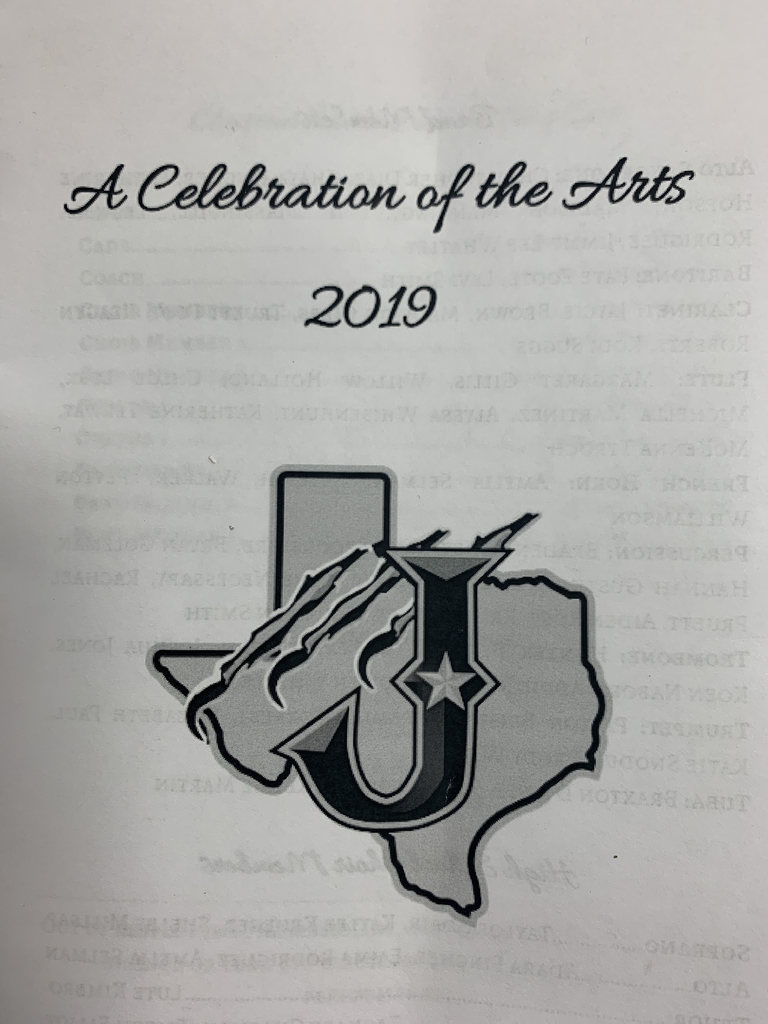 Boys Varsity Basketball will play tomorrow at 2pm in Rising Star, if anything changes I will let you know.

As you come up to the school for Christmas parties please make sure you check the lost and found in the elementary building.

Varsity boys with the win!

42-14 Eagles at the end of the 3rd.

21-9 Eagles at the half.

Varsity boys are up 7-4 at the end of the 1st against Strawn.

Lady Eagles with the win!

40-9 at the end of the 3rd for the girls game.

33-5 Lady Eagles at half time of the varsity game against Gap.

Just a reminder there will be no Grab & Go lunches for teachers or High School this week. We will also be getting out of school at noon on Friday. We will have sack lunches. If you order one make sure you come and pick it up. Thank you!! Have a great Christmas break!!

Basketball this Upcoming Week. JH Games tomorrow in Evant HS games Tuesday in Jonesboro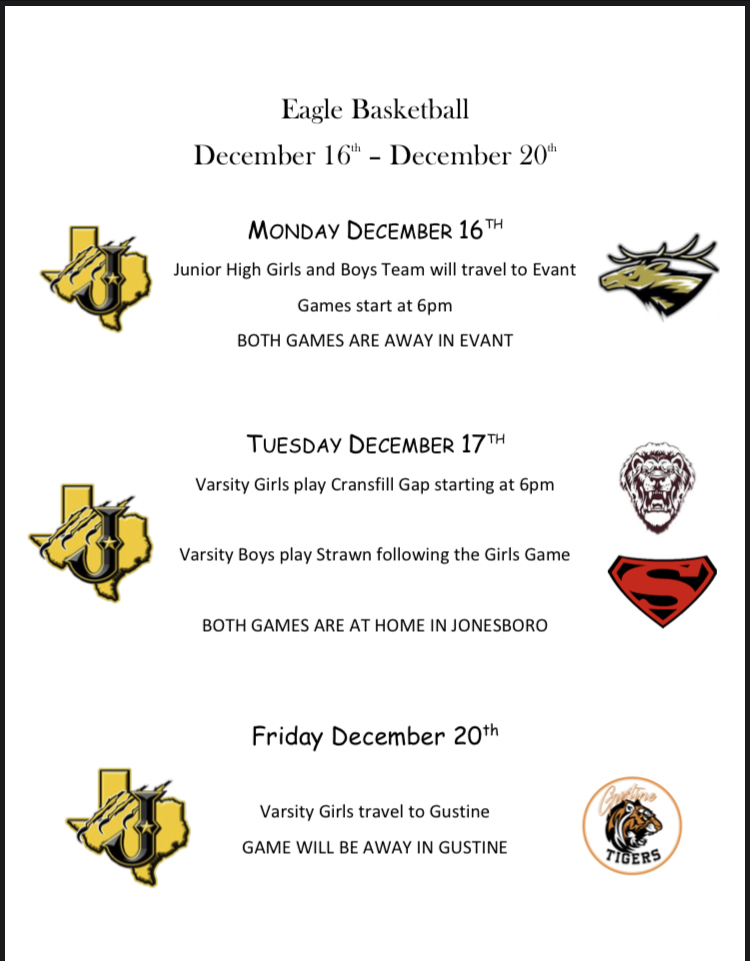 Please be advised the gym floor will be resurfaced over the Christmas break. No one will be allowed on the gym floor Dec 21st-Dec 26th.